Click your BACK button to return
2002 Annual Picnic and
Youth Fishing Tourney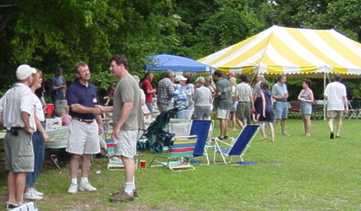 The weather was beautiful (and warm) for the 2002 OTCC Annual Picnic and Youth Fishing Tourney, held on Sunday, July 28.
During the festivities, the Colony Club board presented a plant basket to president Joan Myers, in appreciation for her countless hours of service to the board and the community.
One of many games this year was the "Parent-calling contest." Parents were blindfolded and lined up across from their kids. The kids were then "shuffled." The winner was the parent who stumbled into the arms of his/her child the fastest while the children remained stationary calling out directions to their blindfolded parents.
A new feature this year was live music, supplied by the Taunton community rock band, "West Lake Drivers" (a.k.a. the "Fecal Count Five").
As usual, the highlight of the picnic was the awarding of trophies to the entrants of the Fourth Annual Youth Fishing Tourney. The top awards, presented by Brian Petitt, were:
| | | |
| --- | --- | --- |
| | 1st Place | Aileen Scullin-Turcich |
| | 2nd Place | Shauna Lishae Harrison |
| | 3rd Place | Jackson Callahan |
| | Longest Fish | Colin Evoy (2nd year in a row) for a 26" pickerel |
| | Most Fish | Abby Watson (3rd time in 4 years) |